Busy thursday! Banyak keja oo! But sempat lagi ikut HRA team luncheon at Gayang Restaurant..though ada lambat sikit laa masa tu.. Tidak byk sya mau cakap laa.. tingu jak laa apa kami makan.. hehe.. jangan nangis.. masih ada lagi tu sana Gayang Seafood Restaurant.. order saja.. tapi sendiri bayar..

Their best dish is the Ikan Masak Baba dan Nyonya.. I'm not sure whether baba and nyonya cook or the fish name is baba n nyonya.. Hahaha..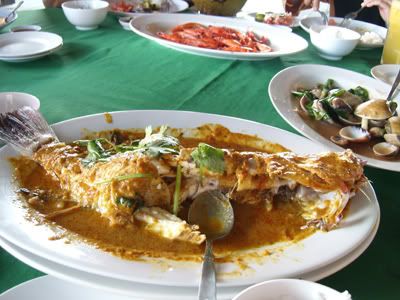 I get the chance to meet Len & Roy at 1Borneo that night, we have a quick walk before heading to the cinema and watch the super disaster movie.. really.. it's so disasterous! I mean.. it looks like cheap movie.. Lack of creativity and hurm.. No comments.. tengok review orang lain sendiri laa..